If you started your own non-profit it's probably because you felt both passion and compassion for a particular deficit in the world of humanity. Whether it be developing after-school programs for high-risk kids, animal shelters, safe houses for abused women, or a better life for destitute orphans, YOU know your cause is worthy and special. You are committed to making a stable organization, largely funded by sponsors. Here's some strategies I've learned after running a non-profit for the past few years
Recently my organization One Heart Bulgaria received an unexpected $15,000 donation from a man who donated $12,000 the year before. Getting the initial $12,000 donation was a feat in and of itself and I thank God for giving us this blessing. So how did it happen? First, the individual who donated wanted a lot of information about my organization. Typically the kind of information they are looking for is: past, current, and projected budgets, statistics, past and current projects, successes, proof of non-profit status, proof of where their money will go, proof that there is an actual need for your organization and so on. Packaging this information in a high-quality marketing folder or packet with brochures, charts, pictures, information sheets, and your business card is essential. Your chances for success will be heightened if the packet is delivered by someone you know who also personally knows the proposed donor. This way you don't have to make a cold call and build a personal relationship of trust in a matter of a few minutes on the phone, which is pretty hard to do.
So now that you have your donation, how do you "make sure" the donor will donate again the following year? First of all, there is no guarantee, but there ARE a few things you can do to make a follow-up donation more likely.
1. Send a thank you letter. Everyone likes to be appreciated. Appreciate your donor's gift and thank them formally. In your letter, you can even tell them what you plan to put their donation towards if they haven't specifically requested something already. You may also want to send a small gift as a token of appreciation. However, the gift should not be expensive, just thoughtful, or else the donor will wonder where you got the money from to "waste" on gifts. Also, give appreciation and thanks to God. Show Him you are grateful for allowing this gift.
2. Keep in touch. Show the donor all the good that came from their donation. As you use the funding to support your non-profit or business efforts, let your donor know all the exciting details. In other words, prove to them that their money was spent wisely and allocated towards very important changes. Don't tell them all the discouraging details or of your doubts about whether or not the project or your efforts will work, just tell them all the good things that ARE working. In our case,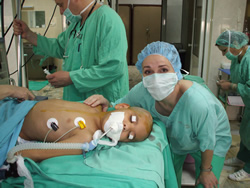 I made sure newsletters with wonderful information and pictures of the orphans themselves were sent to the donor regularly. This helps the donor feel like they truly are a part of creating change and progression. It builds their trust and confidence in you and your organization or business as well.
3. Put their name on it. Is there something you can put your large donor's name on like the "gratitude corner" on your website or the "recognition section" in your newsletter? What about creating a special fund or scholarship in their name, i.e. "The J. R. Smith Scholarship for Autistic Children". In my case, I am looking for someone who wants to donate a large enough amount to have their name on an actual building or "Opportunity Home" for the orphans. For instance, "The Johnson Opportunity Home". On a larger scale, I would like to build a hospital in Bulgaria with the donor's name on it. On a smaller scale a computer room or library room at one of the teenage orphanages could bear the donor's name. You get the idea. Donors may also wish to honor a deceased loved one by putting their name on something.
4. Show a continual need for financial support. In the case of non-profits, your donor may continue to give to your cause if they have proof of a continual and worthy need for support. For businesses, your supports may be willing to help you expand and branch out if you can prove your success to them.
When it comes down to it, if you KNOW your cause or business is important and if you KNOW the timing is right, you need to really go for your dream with all your heart! It's okay and natural to experience disappointments, set-backs, change of plans and goals, but don't get discouraged. Keep trying until you succeed. Someone will respond!
The writer of this article was Deborah Gardner, Co-Founder and Executive Director of One Heart Bulgaria, a 501 c(3) charity that benefits orphans founded in 2003. Deborah has been a mentor and Fairy Godmother for Startup Princess specializing in non-profits for one year.
NOTE: Comments are now closed for this post because not all of the comments were related to the intent of the article, please take ideas from the article and apply to your own non-profits…this was not meant to be a place for asking for funding/grants/charity support.