Hello, my name is Carol Eldridge and I have been licensing my artwork for products for over 20 years to major manufacturers through out the United States and overseas. I'm also a consultant for artists who wish to license their designs. My work has appeared in major retail stores along with smaller gift shops and has been seen on TV shows, catalogs, on line shopping, and in fund raising catalogs. I have exhibited at Surtex for over 20 years, serving on the show's advisory board and giving seminars on art licensing. I have also exhibited at the Brand Licensing show in London, England and the CHA show in Las Vegas. My work h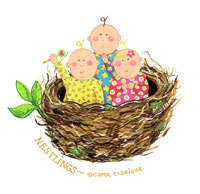 as been licensed for calendars, dinnerware, fabric, giftware, Christmas ornaments, rugs, wallpaper, clothing, stationery, wrapping paper and gift bags, ribbons, books, tiles, pottery, stickers, scrapbook materials, sheets, cotton throws, ceramics, kitchen textiles, ironing board covers, floor mats, aprons, mugs and just about anything else you can think of. My designs have sold in the millions at retail.
I am very fortunate to have a good business head and intuitive marketing skills that have enabled me to stand above the crowd. It is not enough today to just be a good artist in order to make a living licensing your artwork. It is important to understand the business, the facts and terminology, what should be covered in a licensing contract, marketing strategies, trends, building a brand, websites and blogs, other social medias such as Twitter and Facebook, how to think product, how to communicate with your companies and if you should use an agent or not.
My hope is to set some standards in the business and help other artists be aware of the business of art, be smart, be savvy and be very professional.
THINK PRODUCT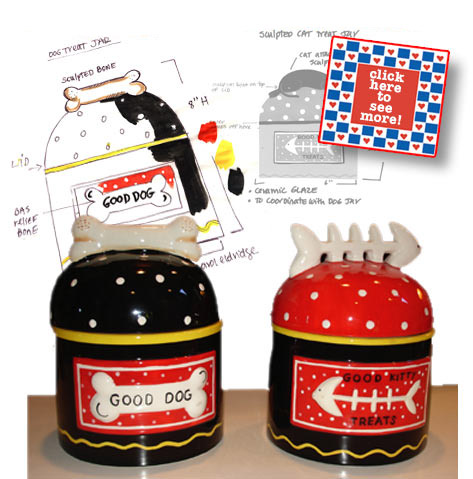 Lots of artists have talent…they can paint a beautiful watercolor of a landscape or beach scene, but how does that translate to the retail market?
You need to THINK PRODUCT…the more vision that you have to show the manufacturer what the line or product could look like, the better chance you have to get their attention.
This ties into trends and what is going on in the market…I think you need to be aware of everything around you so you can be on target for what the companies might be looking for.
Shop the retail environment, take notes, notice what the companies are manufacturing, what are you seeing for trends, what is showing up in shelter magazines, what is happening in fashion, what types of products seem to be selling well. How can you design an image that will work well on dinner plates or tabletop? How can you design a Christmas collection that will translate to ornaments as well as holiday tabletop? Can you draw up an actual product with your design image applied to show what the possibilities could be? Can you think outside the perimeters of the drawing pad?
In developing designs, you need to work on images that can expand into patterns, borders and other accessory pieces to make a collection that will merchandise well. A single image is not the answer. You need to think COLLECTION and how the pieces can coordinate together to tell a story.
You need to be able to create a scalable image that can be used on a multitude of products. How will it apply to the retail market? Will it sell and who will buy it? Does it have a general appeal? Is it a design that will appeal to a broad range of people?
Think of a design concept that is clever and trendy, is innovative with a fresh approach, has a broad appeal and has an application to a myriad of products that the consumer will just feel that they have "Got to have it" and you will be on the way to licensing your designs.
Thank you Fairy Godmother Carol for sharing your expertise with us! If you'd like to contact Carol for consulting, say hello  through her website.