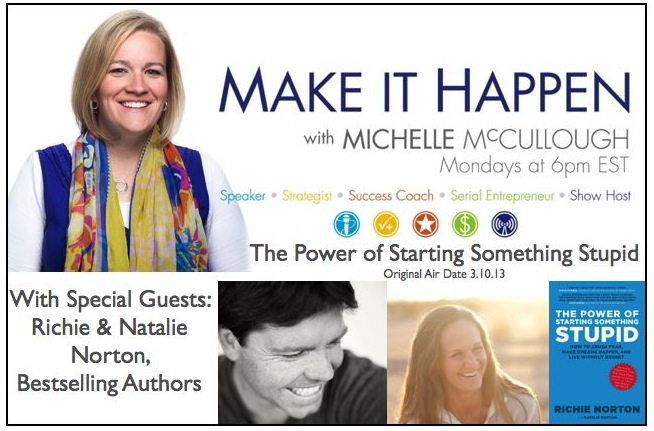 What if the smartest people in the world understand something that the rest of us don't? (They do.) What if they know that in order to achieve success, they will sometimes have to do things that others may initially perceive as stupid?The fact of the matter is that the smartest people in the world don't run from stupid, they lean into it (in a smart way).
Join bestselling author, Richie Norton and me on Make It Happen Radio as we discuss how YOU, too can start something stupid and thrive.
In The Power of Starting Something Stupid, Richie Norton redefines stupid as we know it, demonstrating that life-changing ideas are often tragically mislabeled stupid. Learn how to crush fear, make dreams happen and live without regret by starting your own stupid ideas. Richie shows you how stupid is the New Smart—the common denominator for success, creativity, and innovation in business and life.
RICHIE NORTON is the author of the #1 Amazon Bestseller The Power of Starting Something Stupidas well as the popular blog, Start Stuff. Pacific Business News recognized Richie as one of the top Forty Under 40 "best and brightest young businessmen" in Hawaii. He is an entrepreneur, a sought-after speaker, and an international business development consultant. Richie is happily married to Natalie, and they have four sons.
Follow Richie:
On twitter: http://www.twitter.com/richienorton
On facebook: https://www.facebook.com/PowerOfStartingSomethingStupid
Online: www.richienorton.com  Take Richie's 76 day Challenge here: http://richienorton.com/76daychallenge/
NATALIE NORTON Not only is Natalie Norton dedicated to living what she calls a "purpose driven life," but she's committed to inspiring others to do the same. Natalie speaks to audiences around the world on the subject of purpose and peak performance. In 2011, she founded the Breathe Intensive, "a business and lifestyle rework for moms who also happen to be entrepreneurs," and her authentic, full-of-life writing and photography are consistently featured in local, national and international publications. Her first full length title is The Power of Starting Something Stupid, co-authored with her husband, Richie. Natalie is most fulfilled by her work as wife and mother of four boys.
Follow Natalie:
On twitter: http://www.twitter.com/natalienorton
On Facebook: https://www.facebook.com/pages/Natalie-Norton-Photography/144063065615149?ref=ts&fref=ts
Online: www.natalienortonblog.com
You'll get the why and you'll get the tools so you can Make It Happen!
Hear you soon!
Michelle
Comments & Review by Kelly King Anderson, Founder of Startup Princess  "The Power of Starting Something Stupid" by Richie Norton releases TODAY.  Get your copy on Amazon.

What do you have in common with Richard Branson, Steve Jobs, Sara Blakeley, Ben Horowitz, Walt Disney and William Shakespeare?  If anyone has ever told you "You're CRAZY!" for your startup dreams, you're not alone!
Adam & Eve were the first entrepreneurs if you consider they figured out how to survive which is #1. They were in a constant growth and innovating business model. Why do we think because we are their posterity that we get to be comfortable and stop this type of mindset? Seriously. I tell my students if we aren't progressing and working on ourselves we're asleep and/or nearly dead emotionally spiritually, physically, and mentally.
Richie Norton refers to this concept in his new book, The Power of Starting Something Stupid as "Living in Permanent Beta". He talks about Reid Hoffman of LinkedIn and how he suggests we "be nimble, invest in yourself, build your network, take intelligent risks…and have a mindset brimming with optimism because it celebrates the fact that you have the power to improve yourself and the world around you."
AMEN to that. Let's decide TODAY, right NOW to better ourselves every single day of our lives.
More gems from Richie are ready to be discovered.  Preorder his book. You'll love it!
-Kelly
Some people just speak to my core.  Danielle LaPorte is one of them.  It's been awe inspiring to watch her grow and expand into an international best seller.  I feel like I've had a front row seat to success for the last 4 years.
I had the opportunity to interview Danielle for Make It Happen Radio. We talked about how our desires shape our goals and success, we talked about how to give up the guilt that comes from wanting what we really want, and we talked about getting things done and how she produced a book bestseller AND had a six figure product launch in the same year.
You can download and listen to the interview through this link.  It's about 45 minutes of Danielle goodness.  I was honored to bend her ear.
I'm even more excited that she is coming to Utah next week for "Success On Your Own Your Own Terms – An Evening With Danielle LaPorte"
We have attendees registered from Virginia, Arizona, Wyoming, Colorado, Idaho, California, and of course, Utah.  If you haven't already made plans to attend, it's not too late.  Get a flight, plan a road trip with some friends.
Danielle will be giving her presentation, "Success On Your Own Terms", then she's devoting over an hour to an open Question and Answer setting.  Even if you don't have questions for her, you'll be amazed at the way her brain thinks and the ideas she gives others.
And every ticket includes a copy of her book, "The Fire Starter Sessions".
And get ready to be inspired.
If you're already coming, connect with other attendees and tell us your going on the facebook event page.
And be sure to grab me to say hello!  One of my favorite reasons for hosting live events with Startup Princess is that we can connect in real life!
Until I see you next, Make A Wish, Make It Happen!
- Michelle
Remember this soul inspiring quote?
From Startup Princess Founder, Kelly King Anderson
"Back in 2006 I read an interview of this cool Canadian biz/author/style girl with dreadlocks named Danielle and I fell in love with her vibe so I reached out and asked her to be a Startup Princess Fairy Godmother.  She said YES.
It has been one of the most inspiring connections for me ever since. Since then she's been a personal mentor, served on our board for a bit and is a beautiful soul that I treasure. She even helped me select our Startup Princess logo back in the day (still adore it). She contributed content to our blog for years and we've had her speak for Startup Princess retreats/conferences/teleseminars. On her press page is a quote from me about why I love her message and why we keep asking her to speak for us and our amazing ladies.
"You know how to create an emotional connection with an audience regardless of the medium. You're the real deal. …deep and beautiful, strategic and focused. We can't wait to have you back!"
- Kelly King Anderson | Founder, Startup Princess
Now Danielle is more than big stuff. She's on the lists. She sells thousands during a launch on the first day (The Desire Map) and she's continuing to make an international name for herself in massive ways. She's part zen and part biz strategist with a mother's heart.
If you haven't been fortunate to hear Danielle LaPorte speak yet LIVE you really *MUST* consider attending "An Evening with Danielle LaPorte" in Salt Lake City (location to be announced soon) FEBRUARY 21st. This is a very unique and choice opportunity.
This event WILL SELL OUT.
People WILL FLY in for it.
People WILL be Transformed.
People WILL weep if they miss it.
Here's the details: http://startupprincess.com/success-on-your-own-terms-an-evening-with-danielle-laporte/
Enjoy every second of it.
-Kelly"
I'm two weeks in to Make It Happen Radio.  It's a lot of fun and we've already had some GREAT conversations!
Here's a summary of my first two shows:
YOUR FORTUNE IS IN YOUR VISION
Do you have a big vision?  Are you ready to Make it Happen?  Join me and Ann Webb (Founder of Ideal LifeVision) as we talk about two visioning tools to help you bring life to your big dreams.  Download the show here.
THE POWER UP & POWER DOWN ROUTINE + CREATING A POWERFUL AND POSITIVE CULTURE IN LIFE AND BUSINESS
In this show the first segment is about one of my favorite success tools, the Power Up & Power Down routine.  I share a simple ritual that's critical to my self care and also helps me achieve more during my days.
Then I have a chat with Melissa Bamfo, The Business Energy Expert, as we talk about creating a powerful personal culture.  If you're ready to uplevel, this show is for you.  We chat about how our commitment levels are critical to change.  We also talk about how business owners and managers can create a powerful business culture that spreads through employees and customers.  Download the show here.
TUNE IN NEXT WEEK, WHEN I GET TO JAM WITH DANIELLE LAPORTE – Monday, January 21st, 2013! And Danielle if you haven't heard, Danielle is coming to Salt Lake.  If you're close, you don't want to miss this event! Register here.
Learn more about Make It Happen Radio:
Michelle McCullough: Successful serial entrepreneur, acclaimed speaker, and The Woohoo Radio Network's resident Business and Success Strategist. Michelle has used her marketing know-how to help countless business owners achieve their goals by implementing proven, strategic methods, and she has the smarts, strategies, and experience to help you improve your life and take your business to the next level.
Whether you're struggling to balance your business and personal life, wondering how to get more customers through the door, looking for ways to work smarter, or are overwhelmed by the everyday stresses of being a business owner, Michelle can help.
Kate Endress – CEO of Ditto.com writes:
Over the years I've been a semi-active Facebook user, usually in spurts when I have photos to share or I want to see how people from high school look now. Despite it's faults, I think we can agree that Facebook is most likely here to stay, despite a discouraging first few months as a publicly traded company. I will continue to share my photos on Facebook, but for other activities I'm finding myself more drawn to social start-ups that tap into areas that Facebook has neglected — especially in product discovery, professional development and inspiration.
Ever since Facebook's Beacon fiasco (a failed targeted advertising campaign that ended in a class action lawsuit), the company has been trying to figure out how to monetize on people buying things or discovering products through its site. Where Facebook has stumbled, companies like Fancy and Svpply have jumped in to fill the void.
Fancy has big beautiful product shots that you can scroll through – the Internet's answer to window shopping – and you don't have to waste time going to the retailer's website. You can buy through Fancy by clicking on the product that you desire. Svpply acts in a similar way but with a lot more products. Where Fancy focuses on one big beautiful product shot, Svpply gives you 50 trending objects. It's quality versus quantity. In both cases you add buttons to your toolbar to 'Want' or 'Fancy' items that you browse elsewhere on the web and create your own personal wish list, as well as defining your tastes for others to follow you and admire your consumer style. I have to admit that it is pretty addicting. I have personally gotten into 'wanting' spirals, voraciously and vicariously consuming online and getting the joy of having others want what I found first.
Including Meeteor in this list may be cheating a little bit – it's built onto Facebook's platform – but Meeteor is a vast improvement over regular Facebook in terms of finding people you want to meet. Right now, if I wanted to find a new front-end engineer on Facebook, I wouldn't know where to start. In fact, I wouldn't even try. I would go to LinkedIn and sort through a lot of profiles of 2nd-degree connections. Meeteor helps by finding the people you want to meet and then introducing you or helping you get a 'warm' intro from a friend. Meeteor is a much easier way to network online and to find people you wouldn't have discovered before.
I could have put Pinterest under product discovery, because it does do that, but I think of Pinterest much more for inspiration. Pinterest is really an aspirational site, where you can create a board about your dream home or 'Pin' pieces of artwork that really inspire you. For years, I collected links in Gmail. If I liked a picture or a site, I would email it to myself to have a record for later. I also had a bookmark file called 'Inspiration.' Now I have dozens of boards that in many ways are scrapbooks of things I love.
Beyond personal inspiration, Pinterest works well for businesses by letting customers click through to your site to find the product they like. In our company, we've created a PR board that displays the great photography accompanying articles about us. I really believe we're just starting to tap what Pinterest can do for business, and it's exciting to see how other companies are using it.
These are just a few of the social sites that have popped up in the last year to fill the voids of Facebook. As Facebook tries hard to monetize — and in the process alienates some of its users — look for even more innovative sites to appear and pick up the slack.
Kate Endress is the CEO and cofounder of DITTO.com, a new cutting edge site selling a curated collection of designer eyewear including prescription glasses. Kate is a graduate of Stanford Business School and was previously a private equity investor before becoming an entrepreneur.
I'm so excited! I just joined Lisa Steadman's Woohoo Radio Network and am speaking on my brand and business at Lisa's 3rd annual Woohoo Weekend 2012: Branded, BuzzWorthy, & Broadcasting. The event's taking place at the Renaissance LAX October 20-21st.
As a brand consultant and coach, Lisa's work is unparalleled. She helped build a 9 million dollar brand for Mattel, works with business owners and celebrities to marry their brands with their businesses, and has built a very successful brand around her best selling breakups books, including attracting speaking gigs, media, movie deals, and more.
Woohoo Weekend is an incredible event geared towards experts, business owners, service providers, authors, and solopreneurs who have a mission and a message, are ready to marry their brand and their business, and become a household name in the RIGHT households.
Lisa's generously offered my community and friends a 50% discount on Woohoo Weekend tickets when you register by October 9th.
At Woohoo Weekend, you'll learn about how to:
Clearly define your brand AND your business and understand when to lead which each so your customers and clients can easily say YES
Use social media to generate excitement for your brand and build loyal customers and clients
Secure sponsors for you and your brand
Hook your brand up to Hollywood and become a household name as a brand expert
Exponentially increase the number of people who see you, your brand, your branded content, your branded videos, and want to help you rock the Woohoo that YOU do
Have a broadcasting channel that attracts ideal clients, customers, fans, and speaking engagements while you sleep and go on vacation
And so much more!
Whether you purchase a General Admission or VIP ticket, you can enjoy 25% off tickets when you use this coupon code during checkout: STARTUP
Take a look at all the details on the Woohoo Weekend website: http://woohooweekendtour.com/index.html
If you can't make both days (altho I highly recommend you do), you can also purchase a 1 day pass to the event. Here's how:
Use this coupon code during checkout: daypass for gen admission $75 or daypassvip for 150 VIP. Tix here:http://woohooweekendtour.com/
Congratulations to Managing Director, Michelle McCullough, for being featured in Utah Valley Business Q 40 under 40!
We'd also like to give a shout out to Startup Princess friends Megan Brown of The Sweet Tooth Fairy and singer/songwriter Mindy Gledhill.